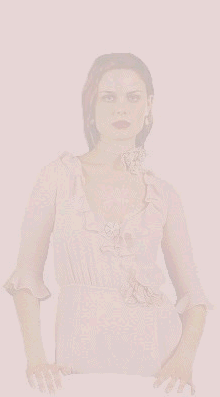 Emily starred in the Interact Theatre Company's production of The Three Sisters as Natasha, the fiance, and later wife, of Andrey, the brother of the Three Sisters. Set in a provincial Russian city, the play focuses on the lives of three sisters, Olga, Masha and Irina, young women of an affluent and educated Russian upper-middle class. Liberated from the need to work, the sisters struggle to construct a life that feels meaningful while surrounded by an array of soldiers, servants, husbands, suitors and lovers, all of whom constitute a distraction from the passage of time and the sisters' dream to return to their beloved Moscow. As in all of Chekhov masterpieces, much of the action in The Three Sisters takes place in between-the-lines, in the silences, gaps and tensions in human discourse that express so much about who we are and what we desire. In this sense, the play remains highly contemporary, and presents young actors with an incredible opportunity to develop their art. Emily proved to do just this to an extrodinary degree. Not only did she win critical praise, she also received a Maddy Award for Excellence in Theater. The Maddy Awards are given by Madeleine Shaner, who is a theater reviewer for Backstage West, WillCall, L.A. Weekly, and the Park La Brea News. The production ran from December 8, 2001 - January 13, 2002.

REVIEWS

L.A. WEEKLY - Reviewed By Deborah Klugman - *Recommended* - *CRITIC'S PICK*

Chekhov's classic Three Sisters leaps from the page in director Peter Levin's vibrant, smartly detailed staging. The titular siblings - Sione Owen's ladylike schoolmarm, Olga; Robyn Cohen's passionate, moody Masha; and Kelly Lohman's sweet and hopeful Irina - all find their dull but upright lives fragment when their crass new sister-in-law, Natasha (Emily Deschanel), annexes their childhood home. Meanwhile, Masha launches into an adulterous affair with a dashing colonel (Don Fischer). Owen and Cohen render especially sensitive portrayals, heading a cast whose performances - opening night rough spots notwithstanding - reverberate with pathos and humor. James Karr's deaf and doddering old servant, for instance, elicits many a laugh, while James Gleason as Masha's kind, pedantic and long-suffering husband is both funny and touching. Victoria Profitt's coral and purple backdrop suggests the skewed, surreal horizon of vaguely unsettled lives, complemented by Leon Wieber's period costumes, Judy Lewin's hair styles and Levin's sanguine selection of classical and folk music.

BACKSTAGE WEST - Reviewed By Dany Margolies - *Recommended* - *CRITIC'S PICK*

Spend an evening with unhappily married couples, soldiers leaving for battle, the elderly mocked for their age, and a fire down the street, and expect to leave enervated and somber. How, then, does this evening leave us delighted, cheered, buoyed? Directed with subtlety and wit by Peter Levin and "adapted" by John Rubinstein (who says he combed through "thousands" of translations to cull this version), this stirring, soulful production finds itself sustained by a cast of breadth and depth, from principals through chair carriers.
Chekhov's siblings are a likeable quartet here. The titular Olga (Sione Owen), Masha (Robyn Cohen), and Irina (Kelly Lohman) rise above their predicaments, large and small, more human than caricatured; Cohen's wry looks and subtle double takes establish this production's humor early on, while Lohman's dewy presence softens Irina's peevish questing. As their brother, Andrey, James Calvert is a cuddly boy who has been the center of his family; to see his character's marriage deflate is to regret the sadly wasted life of this sweet man. Andrey's fiancee, later his wife, Natasha, is given a beautifully crafted arc by Emily Deschanel, at first comically inept, then chillingly controlling.
As Irina's suitor Tusenbach, Stephen Heath not only arcs but also ages over the plot's five-year span, from a nervous Niles Crane to a man of gravitas. Michael Manuel portrays her other suitor Solyony, his rich voice and commanding but relaxed presence giving an unusual darkness to his character. James Gleason makes Masha's husband, Kulygin, slightly pompous until his final scene, when he comforts his duplicitous wife with an unexpected tenderness. Masha's inamorato, Vershinin, is given a dashing, confident, slightly dangerous air by Don Fischer, who makes one ponder whether his character is in reality unhappily married or just seeking thrills. James Greene as the unwilling doctor, James Karr as the elderly retainer, Eve Brenner as the lifelong nanny, Trygve Carl Bundgaard and John Hemphill as handsome visiting lieutenants, and Bethany Hines and Laura Clumeck as servants round out the cast.
As Chekhov well recognized, anyone of some Russian extraction knows it's impossible not to find some fault everywhere, even with the little things, and so we must. During the sisters' climactic scene, the actors are seated on the floor downstage, out of view of much of the audience. The cast distractingly enters and exits through downstage curtains. Amid varied and sumptuous costuming (Leon Wiebers), Masha appears in the same outfit thrice over three years and three different seasons. Otherwise, like Chekhov's description of life, this production is "filled with happiness."

HOLLYWOOD REPORTER - Reviewed By Madeleine Shaner
The only one of self titled "comedy writer" Anton Chekhov's four masterpiece plays that the author categorized as a drama nevertheless gets levitational treatment in the skilled hands of director Peter Levin and a tremendous cast of superb actors at Interact. Although the subject matter is terminal depression, where lesser productions wallow in moroseness, the threads of hope that keep three sisters alive pierce the gloom like golden shooting stars. Sione Owen as Olga, Kelly Lohman as Irina and Robyn Cohen as Masha, the eponymous siblings, bring fire and beauty to their almost tangible longing to return to Moscow. Their father's high ranking military position had given them status in the provincial town where he was stationed. A year after his death, they are still stuck in the same town, sans status, sans wealth, sans future -- young, beautiful, vibrant women with no constituency and no power. In the foreshadow of the revolution and the tumbling of the aristocracy, there's little that's tasty or fulfilling in their lives. The marriage of the sisters' brother, Andrey (James Calvert), to the crass, common Natasha (a wonderfully bitchy Emily Deschanel) exacerbates their living situation beyond redemption. Andrey's own despair at failed hopes has driven him to gambling and slavish uxoriousness to his philandering, greedy wife. There's little to fill the empty spaces in their hearts and minds.
When new military blood comes to town, in the shape of Lt. Col. Vershinin (a dashing Don Fischer) and Solyony (Michael Manuel), a lummox of a mad poet, reactive measures are called for. Masha, bored with her tedious husband, Kulygin (a nicely awful James Gleason, in deep denial), falls in love with the dashing rounder, and Irina, in desperation, agrees to marry a man she doesn't love to escape Solyony's boorish advances. Things can only go from bad to worse in the twilight of dashed hopes that creeps on silent cat feet across Russia, as represented by the disintegrating Prozorov family. And they do. But, as the doctor, Chebutykin (a distinguished performance by James Greene), is reduced to saying after everything collapses, "What does it matter?"
What does matter is a scintillating production, full of warmth and humor, laughter in the face of adversity and endurance beyond self pity.
Set design by Victoria Profitt, magnificent costumes by Leon Wiebers, makeup, hair and wig design by Judy Lewin and J. Kent Inasy's lighting contribute to a spellbinding evening of theater.

IN MAGAZINE - Reviewed By David Nichols **** Four Stars out of Four *****

Roughly ten minutes into Interact Theatre Company's "Three Sisters" , two facts are evident. One is that Anton Chekhov's 1901 masterwork of life's unknowable ironies is still profoundly trenchant. Indeed amazingly apt for post 9-11 concerns. The other is that it is a refreshingly light handed, wonderfully invested production.
Chekhov's death-forshadowed saga of the provincially bound Prozorov family, with their dream of returning to their childhood home as the central metaphor, is precisely pitched between ebullience and elegy. The play is too often drawn as a somber soap opera about three sad women who never make it to Moscow. Here, under Peter Levin's excellent direction, that cliché is shattered.
One factor is John Rubinstein's impressive adaptation, less easily conversational than Lanford Wilson's celebrated translation, but nevertheless poetic, fluid and often wildly funny. This also describes the superb ensemble, which from top to bottom betrays no weak links.
For once the titular trio appears as young as the author dictates, and is beautifully attuned and responsive throughout. Sione Owen's touching Olga carries pure steel beneath her beatific surface. Kelly Lohman's lovely Irina tempers her awkward sweetness with keen awareness. Robyn Cohen's overwhelming Masha is definitive in her mercurial immediacy.
James Calvert as brother Andrey juggles joviality with inner despair to heart wrenching effect. As his faithless Natasha, Emily Deschanel subtly conceals her vitriol beneath comic aplomb. Don Fischer is spot on as the officer whom Masha loves, as is James Gleason as her unwitting husband. And James Greene's alcoholic doctor could have walked out of Chekhov's manuscript; indeed a perfect performance.
Stephen Heath (alternating with Robert Dolan) deftly underplays Irina's suitor Baron Tusenbach, and Michael Manuel is incredibly vivid as rival Vassily. James Karr as the family's deaf retainer and Eve Brenner as their beloved Nanny are treasurable. Trygve Carl Bundgaard and John Hemphill's warm-hearted soldiers performed as though being paid by the word.
Victoria Profitt's modular set initially seems more competent than insightful. As it transforms with the narrative, however, the gradual starkness is immensely effective, as are Leon Wieber's elegant costumes.